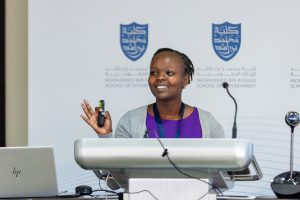 We all have bucket list destinations around the world and for me, Dubai was worth ticking off the list. As the new EV secretariat  (the African Population and Health Research Centre) since a few months, my colleague Francis and I began our preparations for the Emerging Voices for Global Health 2020 venture in Dubai. The question on how this was to be executed from departure to arrival of all Emerging voices 2020 fellows lied on our shoulders, in collaboration with EV governance members. To say I was excited does not begin to describe how I felt. 
Fast forward to the venture, we hit the ground running. We began the day with introductions, welcoming the EV's and taking them through what we had in store for them for the entire week. To break the ice in the room we embarked on getting to know a little about each other. I had the privilege of making a presentation on social media as a skill building activity that would guide the fellows on how they would keep the conversation going online. This included updating the online community on a daily basis. As quoted by one of our facilitators " twitter is one of the best tools for researchers to share their work and keep up to date with like minded individuals in their fields of expertise. Connections are built online through sharing and updating content online".
Our day then culminated with a welcome dinner in the Arabian  desert. We enjoyed mouth-watering cuisines,  some traditional dances and entertainment that gave us a taste of what the country had to offer courtesy of our host the Mohammed bin Rashid School of Government. 
Days fly by fast when you are having a good time. We enjoyed big talks from different panelists on diversity and inclusion, "local market" style icebreaker activity, health governance, knowledge translation, activism and health, a role-play about health systems in fragility and understanding and responding to health systems impacts of climate change. In addition to this, a site visit to the International Humanitarian City (IHC) was an educative and eye opening experience. One of the key features of the IHC I took note of was its strategic location with access to the Middle East, Asia and Africa. They have a system in place to manage logistics and a dashboard that clearly shows their growth and increase in budget allocated to different sectors for example health, energy, water, etc. From the dashboards you could clearly see the increase in budget allocation for health due to the emergence of COVID-19.  It was disheartening to learn about the unfortunate inequities that exist even in access to tests, vaccines and resources, nearly two years now into a pandemic.
We wrapped up the weeklong venture with a webinar where the 2020 cohort made presentations on their research findings that they had been working on throughout their stay in Dubai. They also had the opportunity to share their experiences from the weeklong venture; and finally ended the venture with a farewell dinner. 
Dubai is indeed a beautiful city, from the sky scrappers to the luxurious malls, not forgetting the lovely nightlife scenes, this was indeed a destination worth exploring. The hospitality accorded to us by our host was unforgettable. We had a ball! All this could not have been made possible without the entire team from the Emerging voices and this being my first engagement with them I felt more at home. I can't wait to see what the next venture has in store. 
I'm not going to lie, I had the most exhilarating time in Dubai with the EVs 2020!